And the Nintendo/Amazon relationship grows a bit stronger.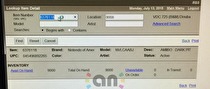 The remaining Kid Icarus Uprising character Amiibo have new details, including the first knowledge of how to get Palutena in North America.
The Palutena Amiibo is exclusive to Amazon in North America, the first exclusive for the online giant. Preorders will open for the Amiibo on July 24 ahead of the July 31 release. Similar to their handling of Wave 4 on May 29, Amazon will restrict orders to 1 per account, will announce the release time in advance and disable one-click ordering.
For those concerned that the Best Buy-exclusive Dark Pit Amiibo will be limited, some good news has been reported by @AmiiboNews: A screenshot of a Best Buy computer shows a quantity of 9000 of Dark Pit will be available in California on July 31. Based on the number of stores in California, it appears there will be at least a hundred Dark Pit per store, and Best Buy has indicated a strict 1-per-customer limit.