The social goals are done, just bring money.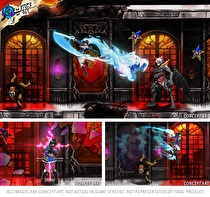 As teased last week, Koji Igarashi's spiritual successor to the Game Boy Advance and DS Castlevania games Bloodstained: Ritual of the Night will come to Wii U if the project reaches US$3m before June 13.
The project is currently funded to the tune of $2.75m between Kickstarter and PayPal pledges, and based on reaching this pledge level will be Igarashi's "biggest game ever". Jake "virt" Kaufmann will also contribute songs to the game's soundtrack as well as returning composers from the Castlevania series.
Should the $3m goal be reached, Armature Studios will be contracted to handle the Wii U version. The studio originally founded by former Retro Studios executives who worked on the Metroid Prime series, Armature's most recent releases for Nintendo systems were Batman Arkham Origins: Blackgate for 3DS in 2013 and the Deluxe Edition of the game for Wii U in 2014.