Curses become paintbrushes in certain countries.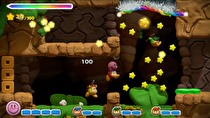 Kirby and the Rainbow Paintbrush Europe and Australia Release Dates Announced
Kirby and the Rainbow Paintbrush is coming to Europe on May 8 and Australia/New Zealand on May 9. The November 2014 Nintendo Direct originally gave a window of September 2015, and no reason was given for the earlier release.
Splatoon is still a May release for Europe as well, which makes May a big month for European Wii U owners. They can check out how to beat the first world thanks to Scott Thompson's video below:
Our Take: "It's good to see that the previous European delays of Kirby may be coming to an end." - Donald Theriault
---
Virtual Console Kicks Into High Gear Tomorrow For North America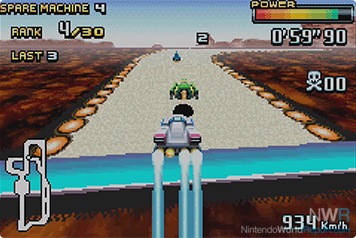 Nintendo of America's website updated today to show that F-Zero GP Legend will be coming to the Virtual Console tomorrow for $6.99.
The 2004 GBA release is based on the anime of the same name, and James Charlton was not exactly thrilled with the game when it came out on the Wii U Virtual Console in Japan.
Our Take: "I don't really think this game is much good. I'm sad we're not getting Zero Mission in North America tomorrow." - Neal Ronaghan
"Given we know what the European release is for tomorrow, I believe James C. would call this a #hypertrollGET" - Donald Theriault
---
Sega and GameFreak Collaboration Announced; Not Coming To Wii U or 3DS
The rumored collaboration between HarmoKnight/Pokémon developers GameFreak was announced today as Tembo The Badass Elephant for PlayStation 4, Xbox One, and Steam. Releasing this summer, the game takes many cues from the Donkey Kong Country series as well as Rampage-style building destruction.
In an interview with GameReactor, Game Freak's James Turner said "When I was writing the presentation documents for this game, I drew a mockup poster, and I put the Steam, PlayStation, and Xbox logos at the bottom. It seemed to fit, and it happened to stick that way. We thought about other hardware during development, but our hands were pretty full with those three platforms!"
Our Take: "This game looks like tons of fun. Too bad it's not coming to Nintendo platforms" - Neal Ronaghan
---
Curve Digital 'Very Happy' WIth OlliOlli Nintendo Sales
OlliOlli was one of the first two crossbuy games for Nintendo in all territories, and the first to work with a direct download from the eShop instead of a code. Despite being warned of a potential exploit, Curve Digital is still happy with the sales of the game in the opening week.
In a statement issued to GoNintendo, Curve confirmed they were notified of the potential for abuse, but they were still happy and will look to take part in the program whenever possible.
Our Take: "I'm not sure if that's a bug or a feature, but it's good news either way to have a major player in the indie scene on board." - Donald Theriault
---
Rising Star Games put out a new trailer for Poncho, a platformer coming to Wii U that uses multiple planes for platforming in a way that would make Mutant Mudds blush.
The ToeJam and Earl Kickstarter has added console stretch goals, with a Wii U version coming up at $800,000.
Atlus has sent out details for the StreetPass and SpotPass functions in the upcoming Devil Survivor 2: Record Breaker. New demons and skills will be sent via SpotPass, while StreetPassing players will give stat bonuses of random amounts to random demons.