Not even a cartoon tie-in can save Sega's struggling hedgehog.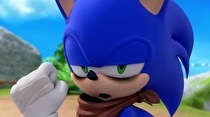 The launch of Sonic Boom is now Sega's weakest game debut in the history of the franchise.
The combined sales of Sonic Boom: Rise of Lyric and Sonic Boom: Shattered Crystal failed to reach half a million sales worldwide. Instead, a mere 490,000 copies of the Wii U and 3DS titles combined were sold.
This is particularly disheartening when considering the sizable marketing push Sega made to generate excitement for these games, going so far as to launch a Sonic Boom cartoon series.
Just recently, Sega announced it was downsizing to restructure and focus its efforts on PC and digital titles. Now it has become perfectly clear why.