While the details are still sparse, it looks like Mario's next party might have some amusing toy support.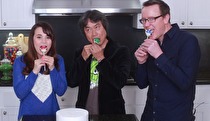 Amiibo support in Mario Party 10 could be a step above current support according to Shigeru Miyamoto in an appearance on the YouTube show Nerdy Nummies.
"We have a lot of different Amiibo that are out there, but with Mario Party 10, we have some fun things that we are doing with Amiibo in that game," Miyamoto said about the upcoming Wii U game.
As of now, all we know is that Mario Party 10 will support Amiibo when it comes out in 2015. Additionally, Yoshi's Woolly World, Kirby and the Rainbow Curse, Captain Toad: Treasure Tracker, and more.
Check out the whole video below. Miyamoto (and Nintendo's Bill Trinen) show up at around the seven minute mark. In addition to taking a bite out of a sugary treat, Miyamoto also talks about Yoshi's Woolly World, Mario Maker, Star Fox, and more.