Check out some awesome deals before your Thanksgiving food coma hits.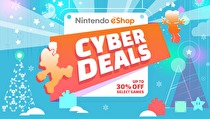 Beginning on Thursday, November 27 and running though Tuesday, December 2, Nintendo will be offering select titles on the eShop for up to 30% off. The sale will start at 9 am PT and end that following Tuesday at 8:59 am PT.
Some of the titles on sale will be as follows:
For Nintendo 3DS:
Mario & Luigi: Dream Team
Luigi's Mansion: Dark Moon
Wario Land 2
Wario Land 3
Metroid II - Return of Samus
For Wii U:
The Wonderful 101
Wii Party U
Mario & Luigi: Superstar Saga
Wario Land 4
Metroid Fusion
For more details about the sale and what all will be available, go to the eShop on the 3DS or Wii U and check the Price Drops section.