A new entry in Atlus' popular role-playing series is coming to Japan.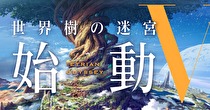 Atlus has announced a new entry in its popular handheld-centric franchise, Etrian Odyssey.
Aside from the fact that it's called Etrian Odyssey V, nothing else was revealed about the game. You can check out the announcement trailer below for a tease at what's to come.
No platforms were mentioned in the trailer, but it's safe to assume that Etrian Odyssey V will be coming to 3DS. Likewise, the game is currently only confirmed for release in Japan, but one would suspect a release in other territories is inevitable.