Gotta stream 'em all!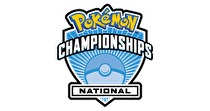 From July 4 through July 6, the Pokémon US National Championships, being held in Indianapolis, will be livestreamed via Twitch.
The stream sessions will cover both Pokémon X & Y, and trading card game matches. Swiss rounds stream on July 5, while top-cut matches and the finals will be streamed July 6. The schedule is as follows, but is subject to change:
Saturday, July 5

Pokémon Video game Swiss Rounds - 12-5 P.M. ET
Pokémon TCG Swiss Rounds - 5-9 P.M. ET

Sunday, July 6

Pokémon TCG Top Cut and Finals - 9 A.M - 2 P.M. ET
Pokémon Video Game Top Cut and Finals - 2-5 P.M. ET
In addition, all attendees who bring their 3DS system with their copy of Pokémon X or Y can receive a Lv. 50 Shiny Mamoswine. Full details of the event can be found here.