Pokémon trainers, test your might in more Competitions starting in June.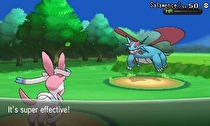 Several newly-announced Pokémon X & Y Online Competitions are scheduled for the coming months, with the first beginning June 6.
Seven Competitions have been revealed so far, each with its own set of regulations. Though general information regarding the upcoming events is available now, the particulars of each Competition are subject to change and will be specified in a more final form within two to three weeks of their start dates.
For now, here is the schedule of upcoming Online Competitions:
June 6-8 - Think Fast Competition: Single Battle
Rounds will consist of 10-minute Single Battles with a 30-second preview of the opponent's Pokémon and 15 seconds to choose a move on a given turn.
Late June - International Challenge June
Standard VGC Rules for 2014 apply here, and players can earn Championship Points in hopes of making a run at the 2014 Pokémon World Championships.
July - Eevee Friendly Match (tentative title)
The format here is Rotation Battle, and players may only use Eevee or one of its evolved forms.
July - All Star ☆ Battle (tentative title)
This is a Double Battle with up to two Legendary and Mythical Pokémon included per team.
August - Think Fast Competition: Double Battle
Players go into this battle with no preview of the opposing player's Pokémon and may have only one Pokémon in reserve.
Autumn - Fairy Type Cup (tentative title)
The format for this isn't finalized yet, but we do know it will be limited to Fairy-type Pokémon.
Autumn - Halloween Party (tentative title)
In keeping with the Halloween season, this SIngle Battle Competition will be restricted to Ghost-type Pokémon, and players will be required to include a Gourgeist in their Battle Boxes.