Here comes the Boom, ready or not.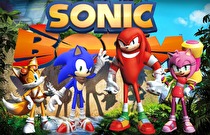 The pair of Sonic Boom games on Wii U and 3DS, named Sonic Boom: Rise of Lyric and Sonic Boom: Shattered Crystal respectively, are set to release November this year.
The aforementioned Lyric is the new villain that Sonic and friends face. He's a tech-savvy, snake-like creature from an ancient race, who also happens to have state-of-the-art robotic armor and plans on destroying the world. While both games will be fixated on stopping Lyric, they will be separate chapters in the Sonic Boom universe and have their own storylines.
Sonic Boom: Rise of Lyric will serve as an in-depth action/adventure game, with emphasis on each character's unique abilities, focusing on combat. One of the new abilities being introduced is the Enerbeam, an energy-charged cord that acts as a traversal tool and a weapon. Players can use the zip-line around the world, grab and toss enemies, and even rip away enemy shields. This game is also the first Wii U title to use Crytek's CryEngine 3.
While Rise of Lyric is bold with action and exploration, Shattered Crystal will be more platforming and puzzle-based on the 3DS. Players will get to control Sticks, the newest member of the Sonic crew, to help save her best pal Amy who is kidnapped by Lyric. Shattered Crystal will also feature collectibles that will unlock extra content on Wii U via Wi-Fi.
Along with these new installments will be an animated CG TV series that will air on Cartoon Network, which was announced earlier this year.
Both games will be playable at E3 next week as well.