Smash-Fest brings the masses the same 4-player Wii U demo E3 attendees will play, along with a chance to score a collectible coin.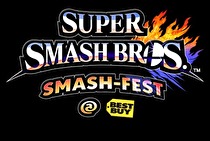 Nintendo has fleshed out its plans to bring fans a slice of E3 by making the Wii U Super Smash Bros. demo available at Best Buy locations across the United States during the week of the Expo.
The event, now known as Super Smash Bros. Smash-Fest @ Best Buy, will feature the exact same Wii U version demo available to E3 attendees, including the option for matches with up to four players.
Fans will get two chances to check out the game that week: Wednesday, June 11, from 4 to 9 p.m. or Saturday, June 14, from noon to 5 p.m. All times are local. Over 100 Best Buy stores will take part in the event, with the list of participating locations available here.
Fans who show up to Smash-Fest will have a chance at some additional perks, as well. The first seventy people at each event to pre-order Super Smash Bros. for either Wii U or 3DS will get a collectible Smash Bros. gold coin, with a maximum of one per customer. Moreover, those who pre-order while there are eligible to receive a $5 Best Buy Rewards Zone certificate when they come in and pick the up the game.
Unlike last year's Best Buy E3 event, at which a handful of demos were playable, no plans have been announced regarding any other games to be shown at Smash-Fest--not even the 3DS version of the game.