Up to 3,000 fans will be able to watch the tournament live and in person.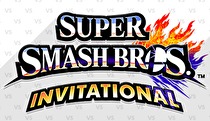 Nintendo has doled out new information regarding the Super Smash Bros. Invitational, including plans to welcome up to 3,000 fans from the general public to attend and watch the event in person.
The tournament, first revealed in April as one of the centerpieces of Nintendo's E3 plans, will take place Tuesday, June 10, at the Nokia Theatre and feature a field of sixteen as-yet-unannounced high-caliber competitors selected by Nintendo.
Fans in the Los Angeles area on the day of the event can line up bright and early at Nokia Plaza to obtain a wristband. These wristbands will serve as tickets to the show and will be distributed on a first-come, first-served basis beginning at 9:30 a.m. PT. If a fan is lucky enough to nab one of those, he or she is free to leave and return later. The doors will open to let attendees in at 2:30 p.m., and those who go the extra mile by dressing as Smash Bros. characters have a chance at getting picked for premium seats in the front rows.
Those elsewhere can watch live via Nintendo's Twitch and YouTube channels, or through Twitch's E3 channel. The competition will get underway at 4 p.m. PT.