Become the Poké-artist you know you were born be.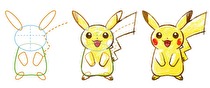 Pokémon Art Academy for the Nintendo 3DS is scheduled to release this fall in North America, Europe and Australia. European and Australian release dates have been set for July 4 and July 5 respectively, but no exact date has been announced for the North American release.
The game features 40 lessons teaching a variety of techniques, brought to life by your in-game tutor, Professor Andy. While previous installments in the Art Academy series have focused on more classic technique, Pokémon Art Academy will approach art from a cartoonist's perspective, with lessons in building drawings from shapes as well as lessons on coloring.
A few new tools will be added to this title, such as Markers, Airbrushes, Outline Pens and even the digital artists' favorite: Undo. Pokémon Art Academy will also have both Free Paint and Quick Sketch modes for more freestyle art that can be shared with other Pokémon Art Academy players or uploaded straight to Miiverse. Over 100 reference images will be provided for use, but players will also be able to capture their own references using the 3DS Camera.
Get your art on by using your stylus as pencils, paint, and pastels to make your favorite pocket monster come to life.