Gotta draw 'em all starting June 19.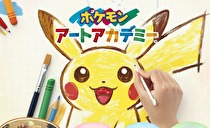 Pokémon Art Academy has been announced for release in Japan. It will be available for 3DS both at retail and via eShop on June 19.
The game is the first iteration of the Art Academy series to focus its teachings on portraits of popular Nintendo characters. It will feature over 40 lessons, ranging from fairly basic representations to more detailed renderings of various Pokémon. There will also be a Free Paint mode, allowing budding artists to draw up to 100 Pokémon with help from a template or from scratch. Of course, a multitude of virtual artistic tools will be available, as well as Miiverse functionality for sharing masterpieces with others.
Pokémon Art Academy will be priced at 3,619 yen in Japan. There is no word yet as to a Western release for the title. An announcement trailer for the game has been posted, and can be found below.