One step closer to catching them all.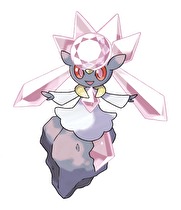 The legendary Pokémon Diancie will be distributed in movie theaters across Japan.
Otherwise unobtainable in the Pokémon X and Y games, Diancie will be distributed in theaters for the newest Pokémon movie, Diancie & the Cocoon of Destruction. The Pokémon is level 50 and knows the moves Diamond Storm, Reflect, Moonblast and Return, and will also be holding a Normal Gem item.
The event is set to run from July 19 through September 30 in Japan. There is no word on a similar North American or European release.