Time for another new Poké Rap!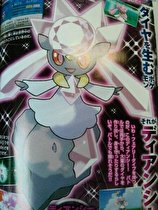 There will soon be a new Pokémon: #719 Diancie.
According to a translation of CoroCoro magazine by Serebii, Diancie is a Rock/Fairy type and will be the star of a brand new Pokémon movie called Cocoon of Destruction & Diancie. No details on distribution have been reported just yet.
Are you excited for this newly revealed Pokémon? Which Pokémon movie is your favorite? Let us know in the comments below!