Display your Persona fandom on the go.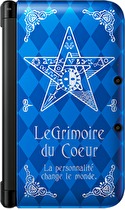 To go with the Atlus' newest Persona game for the 3DS, Persona Q: Shadow of the Labyrinth, will be a limited edition Velvet Room styled 3DS LL. The front is made to look like a handheld Persona book, and has a load of characters from Persona 3 and 4 in formation on the back.
Along with the system, players will receive a copy of the game and also the Persona Q: Sound of the Labyrinth soundtrack.
The bundle will will be released the same day as the game in Japan, June 5, with a price point of ¥25,380 (about $250).