Both are part of a Pokémon Trozei contest. And yes, only in Japan!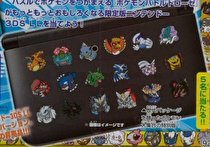 Two more 3DS XL/LL models will soon be released in Japan.
Both system models are based on the recently released Pokémon Battle Trozei, which released on March 12. The consoles, which come in white or black, are decorated with different decals of various Pokémon.
However, the consoles will not be available in stores, and can only be obtained through a contest held by both the Pokémon Daisuki Club website and CoroCoro magazine. Only five winners will obtain the elusive consoles.
Pokémon Battle Trozei will be available in North America on March 20. Nothing has been said about the new models being released outside of Japan, but you can check the images below for what they look like.