The princess is back - and is it possible that she could bring a Phantom into battle?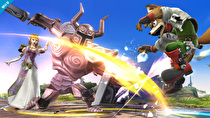 Princess Zelda has been confirmed as a returning veteran fighter in the upcoming Super Smash Bros. games for Wii U and Nintendo 3DS.
Having been playable in both Melee and Brawl, the Hyrulian damsel retains her design from Twilight Princess, as opposed to the more recent Skyward Sword.
Among the images released on the official Smash Bros. was a shot of what appears to be Zelda controlling a Phantom from the Nintendo DS titles Phantom Hourglass and Spirit Tracks. However, it is also possible that the Phantom could be a new Assist Trophy character.
This news follows the recent reveal of newcomer duo Rosalina and Luma, who were unveiled during last week's Nintendo Direct.