The Galaxy princess and her star sidekick join the fight.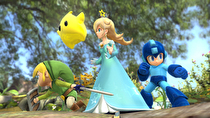 Rosalina and Luma, major characters in the Super Mario Galaxy series, have been announced as a playable fighter in the upcoming Super Smash Bros. for 3DS and Wii U.
This space-based double act will work together during battles, much like the Ice Climbers from previous Smash Bros. titles. Rosalina will use her wand for various physical and magical attacks, while the Luma becomes involved in a host of different special moves, such as firing Rosalina into the air via a launch star or acting as a mobile shield.
A new gameplay trailer showed the characters fighting on various stages, including the newly-unveiled Rainbow Road arena based on the recurring track from the Mario Kart franchise.
The Rosalina and Luma duo marks the fourth newcomer to be announced for the new Smash Bros. games, following the Villager from Animal Crossing, the Wii Fit Trainer, and Mega Man.