Go download it!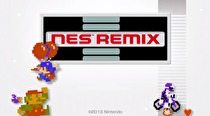 NES Remix, a new downloadable eShop game, is now available on Wii U in North America and Europe.
The game features several NES games remixed to include new challenges as well as challenges featuring other NES characters, presented in a rapid-fire format similar to WarioWare. The stages themselves are pulled directly from their original games, and presented in new ways.
NES Remix features a Miiverse stamp system similar to Super Mario 3D World and allows players to post their best times.
The game retails for $14.99 in the US.