Time to get your brawl on with Billy Lee!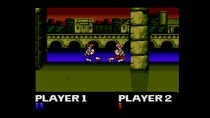 Sega's 3D classic continue to bring the heat this week with two more entries, and Nintendo saw fit to grace the Virtual Console with Double Dragon. It's not quite up to par with some of the deluges of eShop content we've seen in the recent past, but it's a respectable offering. We're also looking forward to two more Sega 3D classics next week!
3DS eShop Games
I wish I could say that I was excited for what is, arguably, the best dolphin-based game ever to release on the Genesis. I spent a few hours desperately playing this game because I was stuck in a cabin far away from society. I eventually gave up and went outside.
Forget dolphins, this game looks awesome! I hadn't heard of it before today, but man, it looks like a heck of a way to blast away an evening. There's some story about a guy doing some things, but hey, look at all those explosions!
Not looking to waste any time, Jump Trials Supreme give you ten seconds to jump your way to the end of the level. With a few different modes and 100+ stages it looks like a fun time for any fan of runner games.
Yeah, I know, it doesn't sound like much, but the game explicitly says you'll be running a stud farm. So keep your kids far away from this horse-filled love fest. Somehow this game slipped by the ESRB with a mild E for everyone rating. Oh well!
My Style Studio: Hair Salon - $4.99
Rounding out this week's selection of games you probably don't care about is My Style Studio: Hair Salon. With "realistic hair styling" and a whopping five characters, you'll be cutting hair until the cows come home, or until you get bored, which will probably be in about five minutes.
3DS Virtual Console
Brawlin' on the go! Double Dragon comes to both Wii U and 3DS this week so you can get your face-punching fix no matter where you go.
Wii U eShop Games
This is the third game to come to us courtesy of Two Tribes, and, like EDGE, offers even more block-centric gameplay. The game has 70 levels and all the blocks you can handle.
Wii U Virtual Console
That's right folks, you can pick up this classic brawler on your Wii U. Grab a controller and start kickin' the night away! Besides, with a name like Billy Lee he's going to need all the help he can get.
DSiWare
Another Kickstarter success story. Orion's Odyssey serves up some piping hot puzzle action for DSi lovers. With 10 "themed levels" and 100 puzzles to solve, we'll see if the game lives up to backer expectations.
eShop Demos