Sweet blades, bro.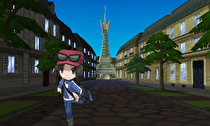 Players will be able to ride bikes, ride pokémon and skate around on rollerblades in Pokémon X and Y. After receiving rollerblades in one of the first towns, players will able to equip them and skate around the world.
Additionally, when players battle other rollerskaters and defeat them the skaters will teach them new tricks they can perform while rollerskating.
This information comes directly from a Nintendo representative who was giving us a hands on demo of Pokémon X and Y last Tuesday.