Intelligent floating sword? Yes, please.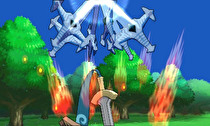 A new Pokémon has been announced: Ghost-type/Steel-type Honedge.
Honedge, the first Ghost-type/Steel-type Pokémon, takes the form of a sword, and is able to remove its sheath (using its cloth-like arm) to attack opponents.
Check out some screenshots of Honedge in action in the gallery below!