Pikmin, Lego City and Wonderful 101 are set to get discounts in Japan for a limited time.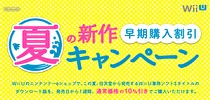 A new summer early adoption campaign, giving gamers 10% off the price of select titles, is set to start in Japan this month.
The special sale applies to three upcoming Wii U releases in Japan - Pikmin 3, Lego City Undercover and The Wonderful 101. The sales, which only apply to the digital versions of the titles downloaded from the eShop, start on each respective game's release date and will continue for seven days. The sale schedule is as follows:
Pikmin 3
July 13 - July 19
Sale Price: 5,387 yen (from 5,985 yen)
Lego City Undercover
July 25 - July 31
Sale Price: 5,387 yen (from 5,985)
The Wonderful 101
August 24 a August 30
Sale Price: 6,237 yen (from 6,930 yen)
This campaign is currently exclusive to Japan.