Get ready for a Game Gear injection for your 3DS!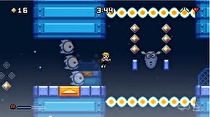 There's been a lot of positive buzz around Nintendo's stance towards indie games, and this week they're backing up that statement with several awesome indies titles on both of their major systems. Unfortunately the Wii U eShop is left forgotten, but Nintendo makes up for it with a heaping helping of Game Gear titles for your 3DS.
3DS eShop Games
Mighty Switch Force! 2 - $5.99
Fire hoses and block puzzles have finally combined their powers to leave you scratching your head in delight. Patricia Wagon is at it again, and it's up to you to round up all the Hooligan Sisters dressed as a super cute firewoman.
Double dipping in the indie puzzle game well this week? I think so! Not much to be said here except that if you love picross then you're going to want to pick this up. Nice clean puzzles without all the commotion of story, action, or even characters!
Big Bass Arcade: No Limit - $6.99
No longer will you have to put up with limits on your bass fishing fanaticism! Big Bass Arcade: No Limit is here to break new ground in the area of bass fishing and arcade games. Snag some big 'ol bass across 10 lakes, 32 tournaments and fifty challenges. The bass reckoning is nigh!
3DS Virtual Console
Go fast for the first time all over again with your Pal sonic! It might not be the Genesis version, but it's probably the next best thing. If you didn't get a chance to check out Sonic's debut adventure back in the day then saddle up kimosabe, because now's the time!
Dr. Robotnik's Mean Bean Machine - $2.99
If you were alive in the 90's then you probably remember Dr.Eggman by his original name: Dr.Robotnik. But did you know that he also hates beans? In fact, he hates them enough that he's hatching an evil plot to turn the people of Beanville into machines! Which is really horrible...I guess.
Shining Force: The Sword of Hajya - $3.99
King Iom is a jerk. There, I said it. Someone needs to stop him and bring peace back to the Kingdom of Cypress. He even took the Sword of Hajya! Why don't you go get it and put it back where it belongs: lodged in his ribcage.
Columns is a match-three game before match-three games were played out. Throughout its ten levels you'll find yourself matching not two, but three things repeatedly. It's truly a deep experience; by the end, you'll even be wondering what would happen if you could matched four jewels. I'll let that one sink in.
Wii U eShop Games
I hate mud more than Dr.Robotnik hates beans (i.e., a lot), and Renegade Kid is here to satisfy my mudlust with Mutant Mudds Deluxe. Definitely the definitive version of an already great game, Deluxe adds HD visuals, a new set of ghost levels, and even includes the Granny stages.