Take a deep breath and say it with me: Animal Crossing is almost here!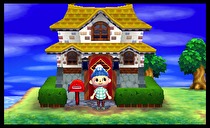 Well, the bad news is that this month we're getting one of the weaker titles from the Famicom Anniversary promotion. The good news is that Animal Crossing: New Leaf is now poised to utterly consume your life! Hopefully next week we see some stronger Virtual Console releases, but I'll probably be too busy running around a brightly colored animal world to even notice.
Wii U eShop Sales:
Marvel Avengers: Battle for Earth - $29.99
Trine 2: Director's Cut - $9.99 (Until 9 a.m. PT June 27)
3DS eShop:
Animal Crossing: New Leaf (Releases midnight ET, June 9) - $34.99
It's time. Get your 3DS ready and prepare to start the cycle all over again. Tree shaking, fruit collecting, fossil identifying, and, finally, more town customization than you can shake a shovel at. If you have a 3DS, you need this game.
Wii U Virtual Console:
Yoshi (Releases June 12) - $0.30
The newest entry in the ongoing Famicom Anniversary promotion takes the form of the lovable 1992 puzzle game Yoshi. Yoshi has gotten himself trapped inside an egg (again?) and it's up to Mario to save him by…stacking falling enemies? Well it made more sense in 1992.
Spelunker may not be the best Nintendo game, or even a great one, but is has something that most games don't: an intentionally weak protagonist. One of the villains you'll find yourself facing off against is the dreaded steam vent, bane of over-styled hairdos the world over! Prepare your adventuring spirit for some crushing defeat.
Wii Virtual Console:
Sengoku 3 - 900 Nintendo Points
I haven't given up on the Wii Virtual Console, and neither should you because Sengoku 3 has arrived! Go dig out that Nintendo Points card and spend some time cutting the faces off your enemies with ninja arts and four characters to choose from.