If there's an extremely nonsensical mystery afoot, fear not - Mackenzie and Funghi are on the case once again.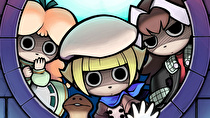 Touch Detective 3, the third in the series of point-and-click adventure games that began on Nintendo DS, has been announced for 3DS.
This latest adventure, which when translated from Japanese has the full title of Touch Detective Rising 3: Does Funghi Dream of Bananas?, is being developed by BeeWorks Games, who made both of the previous entries in the series. The game is believed to focus around Funghi, the mushroom character who serves as the pet of detective protagonist Mackenzie and who has starred in several spin-off games released for smartphones in Japan.
More details on Touch Detective 3 are expected to be unveiled in the latest edition of Famitsu and on the game's official teaser website tomorrow.