Gotta catch 'em all?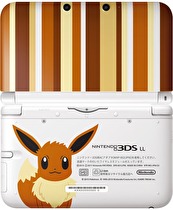 The Pokémon Company has partnered with Nintendo to create the Nintendo 3DS XL Eevee Edition for Japan. To obtain the limited edition console, you must enter a lottery through Japan's Pokémon Center retail stores.
The special console was created to commemorate the 15 year anniversary of the Pokémon Center in Japan, starting with the first one opening in Tokyo in 1998, and will cost 18,900 yen (roughly $185). The 3DS XL features brown stripes on top with a picture of Eevee underneath.
To enter the lottery, those interested can download an application from the official Japanese Pokémon website and either mail or bring it to the store any time before June 3. Winners will be notified by mail after June 14 and can purchase their Eevee 3DS XL on June 22.
Previously, the Pokémon Center offered a limited edition Pikachu and Charizard 3DS XL in August and December, respectively. The Charizard console was also only available through a lottery.