Yoshi is back and in 3D.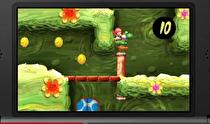 A new entry in the Yoshi Island series is coming to the 3DS.
Announced at today's Nintendo Direct, Yoshi's Island for 3DS will be an all new adventure and will feature similar visuals to other entries but in 3D. Besides usual Yoshi moves, including the ground pound, new actions are added that will take advantage of 3DS capabilities.
No release date is annouced at this time.