Mewtwo might have some competition.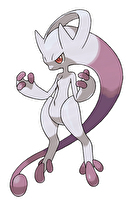 Pokémon Smash revealed what appears to be new Pokémon for the upcoming Pokémon X and Y today. It bears a strong resemblance to Mewtwo and is being referred to as a new Pokémon.
Junichi Masuda, one of the founding members of Game Freak, guest starred on the show and revealed an image of the Pokémon to the hosts. Videos of it battling in-game were also shown. Nothing further was discussed about the Pokémon, so it is not clear at this time if this is a new form or a new Pokémon altogether.
It has been over a month since the reveal of Sylveon, Eevee's newest evolution. Little is known of Sylveon, and what type it is still remains a mystery. Pokémon X and Y will be released in October this year.
Check out the video and gallery below for footage and screens of this announcement in action.