Junction Point Studios and Warren Spector no longer have a home at Disney Interactive.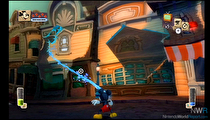 Junction Point Studios, the developer behind Epic Mickey and its sequel, has been shut down.
The closure, as reported by Polygon, was confirmed by a representative of Disney. This source said the reason behind the move was "changes to our Games organization."
Following the closure, Junction Point's president and co-founder Warren Spector stepped down as the vice president of Disney Interactive Studios.
The news comes in light of reports that Disney Epic Mickey 2: The Power of Two had only managed to sell 270,000 copies across all available platforms in the US. It has not been confirmed that this played any role in Disney's decision.
Junction Point Studios was founded in 2004, and later acquired by Disney in 2007. As a company, their motto was "play style matters," and their goal to "tell stories with players, not to them, allow them to craft their own, unique experiences."