Which games will drop the 'tridge and go fully digital?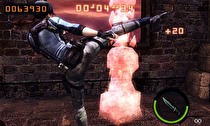 "Many of our previously released 3DS titles will be coming to the eShop in the coming months," Capcom's Christian Svensson announced on the company's Ask Capcom forum.
Svensson, Capcom's Senior Vice-President, made this reply to a thread that began asking of Capcom's support for the Wii U eShop. A member of the forum made a post predicting Capcom's unwillingness to support the Wii U's digital store, to which Svensson remarked on the companies forthcoming support for the North American 3DS eShop.
From launch, Capcom has released Super Street Fighter IV 3D Edition, Resident Evil: The Mercenaries 3D, and Resident Evil: Revelations. It's unclear which of these is destined for the eShop.
Svensson further commented that Capcom's focus is on the future, not the past. This seems to hint at upcoming titles like Monster Hunter 3 Ultimate making its way to the eShop as well as retail.