All three shops are temporarily going down, but what for?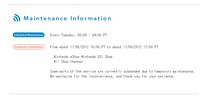 All three of Nintendo's digital shops will be undergoing temporary maintenance on Tuesday, November 6, according to Nintendo's website.
While Nintendo's network undergoes regularly scheduled maintenance every Tuesday morning, this week the North American Nintendo eShop, Nintendo DSiShop, and Wii Shop Channel will all be undergoing maintenance from 10:00AM - 5:00PM PT (1:00PM - 10:00PM EST.) The Japanese eShop will also be offline on Wednesday between 3:00 and 10:00 JST.
There is currently no confirmed word on what the maintenance is for, but it can be speculated that it may have something to do with preparation for the upcoming launch of the Wii U. We have contacted Nintendo about the matter. Check back for any updates on the story.