Also, change the entire look of your house!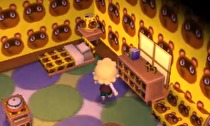 Making the town and your character your own will be easier than ever, according to the developers of Animal Crossing on the Nintendo 3DS. The various design options in the game were discussed during this morning's Animal Crossing Nintendo Direct Event.
For starters, you can design your own roads and create paths for your visitors to walk on. You can even set up a camping ground, so that animals who don't live in your town can pay you a surprise visit. As the mayor, you can decide what to build in your town. However, you won't always have the cash flow to make this happen all by yourself and therefore you will have to ask villagers to chip in a little bit of their own money. This is a process that can take a day if you are lucky, but weeks if your project is quite huge and needs a lot of funds.
Of course, you can still buy your regular clothing from the Able Sisters, but in this new version you can also buy shoes or boots for your character to wear. You can now also completely change the outside of your house at Tanooki Housing Real Estate. You can keep it simple and just replace your chimney, or you can go crazy and turn your house into a castle. You can also decide on how the house will be expanded and make it your own maze of rooms and passage ways. Similar options are also available for the town hall.
The ''create designs'' feature from the previous games makes a triumphant return as well and with more possibilities than ever before. The palette of colors has been largely improved and there are various tweaks such as the ability to zoom in and out. You will be able put your creations on everything in the game as you see fit. You can apply it to shirts, furniture, flags, and other things you have. The best part is that you can share the creations through QR codes, so that all of your friends can enjoy them.
Animal Crossing for the Nintendo 3DS will be stores in Japan on November 8. As for North America, the last we heard was the game was coming in the first half of 2013.