There will be at least six Virtual Console games in the next three months.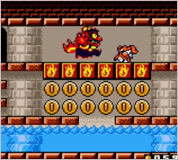 Mario Golf, Super Mario Bros.: The Lost Levels, Wario Land II, and more are coming the 3DS Virtual Console in North America before the end of 2012.
Check below for a full list of release dates for each game.
October 11 - Mario Golf (Game Boy Color, originally released in 1999, VC version out in Japan)
October 25 - Castlevania: The Adventure (Game Boy, originally released in 1989, VC version out in Europe and Japan)
November 8 - Ninja Gaiden (NES, originally released in 1989, VC version out in Japan)
November 22 - Zelda II The Adventure of Link (NES, originally released in 1988, Ambassador game, VC version out in Japan and Europe)
December 20 - Wario Land II (Game Boy Color, originally released in 1999, VC version out in Japan and Europe)
December 27 - Super Mario Bros.: The Lost Levels (Famicom Disk System, originally released in 1986, VC version out in Japan)