Not to be confused with Harpo Marx Knight.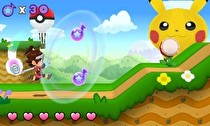 Pokémon game composer and Game Freak director Junichi Masuda expressed his desire to send Game Freak's first full 3DS eShop game, Rhythm Hunter: HarmoKnight to Europe and North America.
Masuda told IGN that "In terms of a North American or European release, it's definitely something we'd like to do, but we're working out the details with Nintendo now and seeing what would be the best way to get that to players."
The game was conceived by the British-born Game Freak employee James Turner. He and his team of 25 worked on the game for nearly a year and a half. At Game Freak, these kind of projects are encouraged, according to Masuda. The company policy is a simple one.
When asked about this policy Masuda replied "If they can find at least three co-workers to jump on the project and say they want to do it together, then they'll be able to proceed with that project." He then continued about how Game Freak encourages people to work on games they're genuinely interested in and passionate about. He then added that these games build up experience and that experience can translate back to games like their Pokémon franchise.