Reggie talks a little more about the Wii U.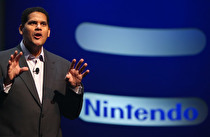 More Wii U facts have been brought to light after an interview with Nintendo of America's President, Reggie Fils-Aime by gaming website Kotaku. For instance, Fils-Aime revelaed that the Wii U eShop will be region locked. The eShop will be available at launch along with video chat, an internet browser, and Nintendo Tvii. Fils-Aime added that there would be no pre-downloaded games like Find Mii on the Nintendo 3DS.
It was also mentioned that there would be no multi-tasking on the Wii U. Players cannot watch NetFlix on the GamePad while playing games. Only one of the programs can be used at a time.
When confronted about how 'the Wii tapered off' during the last year or two, especially with third-party support, Reggie responded with "Technical performance has absolutely nothing to do with longevity and support."
The Wii U is set to be released November 18, 2012 in North America, November 30, 2012 in Australia and Europe and December 8, 2012 in Japan.