Wii U: Not just for games!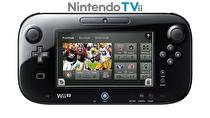 Nintendo's Wii U will double as a TV service. Nintendo announced a video hub called Nintendo TVii during the live event in New York City this morning.
The application will allow players to browse and watch TV shows as well as selecting movies from many sources including as TiVo, Hulu Plus, Amazon Video and Netflix. The experience promises to allow different users to select favorites using their own Mii profile, and several profiles can of course be stored at the same time.
You get recommendations based on your preferences, and can see what your friends and family have been watching and their own preferences. Your profile can also be linked to your FaceBook profile for quick access to what your friends like to watch.
All of the input for Nintendo TVii is done on the Wii U GamePad, allowing for quick browsing and access. A remote-style interface can be pulled up on the Gamepad screen, with a turnstile dialer that spins to show the different buttons.
When viewing sports, the GamePad screen will let watchers see profiles and stats of players and game highlights and layouts for each event.
The Nintendo TVii service will connect to the internet, allowing YouTube and online video access as well. It will be included in the console for free, with no monthly subscription fees.