Hiroshi Iuchi and his company G.Rev show off Kokuga's co-op multiplayer, power-ups and more in their most recent trailer.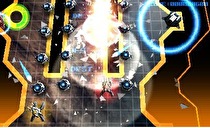 The second promotional trailer for the shoot 'em up title from G.Rev, Kokuga, was released this week.
The trailer, which can be viewed below, shows off several of the game's unique features, such as the "Card" system, which allows users to touch one of four cards on the bottom screen to enable a power-up. The trailer shows power-ups such as stealth, restore shield, repair, defense up, and a variety of other attack cards. Another major features of the game is the ability to play with up to four other players via download play with only one copy of the game.
Kokuga is being designed by Hiroshi Iuchi, the creator of classic Ikaruga, and is set to release in Japan on September 27 for 5,040 yen.