It's not as cool as Scizor, but it's still pretty cool.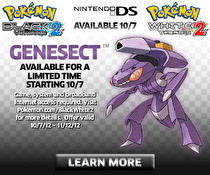 Genesect, the steel/bug Pokémon will be distributed via a Wi-Fi event to all Pokémon Black 2 and White 2 players starting October 7, Nintendo of America announced.
Players will be able to download the previously unavailable Pokémon until November 12. Genesect will come with the moves Techno Blast, Magnet Bomb, Solar Beam and Signal Beam but will not come with any hold items. Japan had the same offer earlier this year.
Pokémon Black 2 and White 2 will be released October 7, 2012 in North America. The game is currently available in Japan.