Phoenix is back on his Wrightful career path.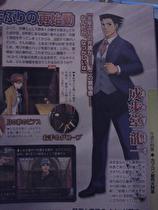 Attendees at this year's Tokyo Game Show will be able to play a demo of the new Gyakuten Saiban 5 on 3DS, the latest in the Ace Attorney series.
According to Famitsu magazine, the game will take place one year after Apollo Justice and feature Phoenix returning to his duty as a defense lawyer. No mention of Maya Fey's whereabouts have been made yet, but the game will introduce a new key character, a mysterious girl in yellow attire.

The opening case in the game involves an explosion in the courthouse, and Nick must defend a weak and easily-stressed schoolgirl named Shinobu, against a new prosecutor, Winston Payne's brother.
Much like in his upcoming crossover with Professor Layton, the game will feature full 3D models of the characters. Some new gameplay elements are also hinted at through what few screenshots have been revealed so far, including what may be buttons to make various facial expressions.
We have no word of a release date nor an English localization at this point, but more updates will arise as news breaks.