Capcom's cel shaded, stylized Lost Planet spin-off hits this November.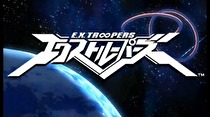 EX Troopers, a Lost Planet spin-off title developed by Capcom, will release on November 22 in Japan for 5,990 yen.
The game, which is an action "beginner's shooter" puts players in the role of Bren Turner who is enrolled in an academy on EDN-3rd, one of the main locations from the game. The game features a cel-shaded, anime-inspired look that sets it apart visually from the main games in the Lost Planet series.
There is currently no word as to when EX Troopers will be released in the West.