If you want the game you won't have to wait much longer for it to be available.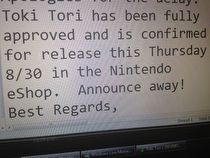 Toki Tori has been confirmed and approved for release on the Nintendo eShop this Thursday, according to a message sent out by Two Tribes via Twitter.
Earlier this summer we learned that Toki Tori would be coming to the 3DS Virtual Console as a Game Boy Color title. The promise of this game being available is now being fulfilled as it will be available on August 30, 2012. Toki Tori launched earlier this month in Europe
Toki Tori is a puzzle platformer in which you go on a quest to save your younger siblings who are still stuck inside their eggs.