The new Mario sidescroller is already over 900,00 after one month!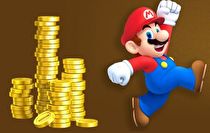 New Super Mario Bros. 2 for the Nintendo 3DS is already well on its way to cross the one million mark in Japan, with 918,262 units sold as of August 19.
From the week of August 13 to August 19, during the Obon holiday in Japan, New Super Mario Bros. 2 sold nearly 152,000 copies. Other titles on Nintendo platforms also fared very well with titles such as Dragon Quest X, Pokémon Black and White version 2, Just Dance Wii 2 (built off of the Western Just Dance Wii 3) and Kirby's Dream Collection also seeing strong sales numbers.
With the release of New Super Mario Bros. 2 in the West, the title is more than likely well over the one million mark worldwide. There was no information as to whether or not this included digital sales.