Konami's latest portable Castlevania game is no longer coming out this fall.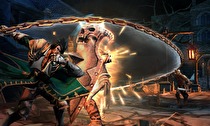 Konami officially confirmed the delay of Castlevania: Lord of Shadow - Mirror of Fate to early 2013 in North America in a press release today.
Suspicion of the 3DS game's delay arose when it was not on Nintendo's 3DS fall release list. When we contacted Konami regarding the situation, they didn't confirm or deny the delay, merely saying that information was coming soon. At Gamescom, Konami announced a 2013 release date for Mirror of Fate in Europe.
From developer MercurySteam, Mirror of Fate is set in the world set up by 2010's Lords of Shadow. Players control four different characters throughout different time periods.
You can check out our E3 2012 impressions for more details.