And Tezuka exclaimed "Everything must be gold" and then, it was gold.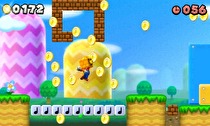 "This is great," Mario Producer Takashi Tezuka said to New Super Mario Bros. 2 Director Yusuke Amano when he first saw the coins emitting from Mario's block-adorned head. "You can make all kinds of stages like this!"
And that's how the gold influence became a focus, according to Amano in the latest Iwata Asks. He further elaborated, stating that the origin of New Super Mario Bros. 2's coin-crazy design dates back to a sequence in Super Mario 3D Land where Mario hits a Question Block and then wears it on his head, gaining coins as he moves around. After that was added to 3D Land, Amano got a request to add that mechanic into the game, and eventually, after the warm response from Tezuka, gold and coins were the hook.
Amano didn't want to plainly rip off 3D Land, though, so he then added a gold Koopa Troopa. And then a gold Goomba, Lakitu, and Bullet Bill. From there, nearly everything was golden.
The last piece was for Mario to turn gold. The original concept of the Gold Fire Flower power-up came out of the P-Switch, which turned blocks into coins. Eventually, it turned into shooting golden fireballs to turn blocks into coins.
According to Amano and Tezuka, Nintendo's Shigeru Miyamoto actually did not like the idea of Mario having a block on his head when he was shown the concept. Tezuka explained "His background is in industrial design, so he wondered about the mechanism behind it. He can't accept something if the mechanism behind it isn't clear."
Amano pitched the concept to Miyamoto as a punishment/reward to players who greedily jumped under a block to get more coins. After a few hits, the block would then affix to Mario's head.
New Super Mario Bros. 2 is coming out on August 19 in North America.