150 coins can get you Q-Games' minimalist tower defense DSiWare game on 3DS.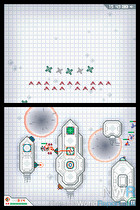 Starship Defense is now available as a North American Club Nintendo reward for 150 coins until July 29, replacing Electroplankton Rec-Rec, which was available from July 1 to July 15. It can only be downloaded on 3DS systems.
The game, originally released on DSiWare in 2010, is a tower defense game from Q-Games, the developers of Star Fox 64 3D, Star Fox Command, Art Style: Digidrive, and the PlayStation-exlusive PixelJunk games. You can read our review of the game for more details.
Since Club Nintendo started offering games as rewards late last year, this is the first time games have been made available on a staggered schedule. Previously, old games would be taken down at the end of a month, and new games would be added on the first of a month.
Mario Tennis is the other currently available Club Nintendo game. The Wii Virtual Console title is available for 150 coins until July 22. A new game will likely be added on July 23.