CORRECTION: Marvel Comic's irreverent "Merc with a mouth" anti-hero has a videogame, but no specific platforms have been confirmed yet, not even the Wii U.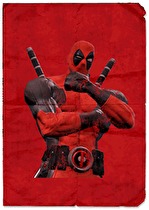 CORRECTION: This story originally described the Deadpool game as confirmed for Wii U. However, the context surrounding the discussion of the Wii U at the San Diego Comic-Con panel appears to be more accurately attributed to Avengers: Battle for Earth. The Deadpool game still has no announced platforms.
Wise-cracking, fourth-wall-breaking, anti-hero Deadpool is coming to consoles next year, according to information from the San Diego Comic Con panel where the game was revealed. No specific platforms were mentioned in the game's teaser trailer.
The trailer, viewable at the game's official website, starts with the red-and-black spandex-clad super hero directly addressing the viewer and then proceeding to argue with the multiple personalities in his head. This is followed by what seems to be third-person game footage of Deadpool wreaking havok on enemies with his katanas, guns, and fists, all the while cracking comments and making remarks.
The game will be published by Activision, and is under development by High Moon Studios, who are responsible for many of the recent Transformers videogames, most recently Transformers: Fall of Cybertron.
Thanks to forum poster SonOfMrPeanut for pointing out the details of the question and answer session.