Hint: it might be about their download services.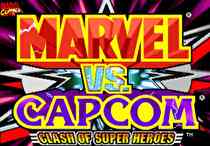 Capcom Corporate Officer/Senior Vice-President Christian Svensson explained why Capcom's Marvel-based fighting games have yet to hit Nintendo systems.
A fan on Capcom's Unity forums asked why the popular Capcom fighting games had yet to appear on any of Nintendo's systems, whether as retail titles or downloadable games. The answer Svensson offered is as follows:
"It's not some sort of spite thing. It's just that on current generation consoles, the most sizable base of active digital consumers has been on the X360 and PS3. Bear in mind, this game was green lit more than a year ago when I did the deal with Marvel."
Svensson, however, made the statement that future downloadable game projects will indeed be appearing on Nintendo systems. "Don't worry though, on some future unannounced Capcom projects, Nintendo platforms will get digital love from us."